Wilmington Convention Center: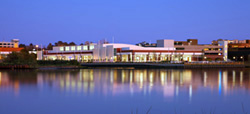 "As a result of the superior cooperation, timeliness, cost efficiency and support from the    J. M. Thompson Company team, the Convention Center not only achieved LEED designation, it went on to achieve a Silver designation.  This could not have been possible without the support of the J. M. Thompson Company team.
Construction of the facility was completed in a timely manner while facing numerous obstacles due to the site being an old abandoned industrial site with many unknowns below grade.  Throughout the project, the J. M. Thompson Company team performance was exemplary with a high quality of workmanship and pride.  We now have one of the finest convention center facilities anywhere and continue to receive awards on its design and construction."
– Steven D. Bridges, Assistant to the City Manager for Development (Retired)
---

Wake Technical Community College Northern Campus Buildings A, B, C and D:


"From project inception through completion, the Design and Construction teams never wavered in making certain that the Owner's needs were first and foremost.  In doing so, they were able to deliver an award-winning building on time and under budget to the College…"
– Wendell B. Goodwin, P.E., Facility Engineering Officer
---
"A high degree of professionalism was demonstrated by the construction team.  You developed schedules and managed the construction activities so that all of the projects were completed on time.  This allowed the College to open the campus on schedule to serve the educations needs of the citizens of Wake County. ..The construction activities were conducted to protect the health, safety, and welfare of all person's on site.  Project Management demonstrated outstanding knowledge of the means and methods necessary to plan and execute the schedule.  The entire effort was simply outstanding."
– Douglas M. Brinkley, FAIA, LEEP AP, Pearce Brinkley Cease + Lee, PA
---

Woodland Terrace Retirement Center: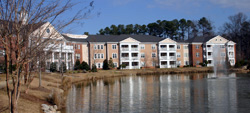 Kisco Senior Living recognizes that J.M. Thompson Company was the right general contractor for the Woodland Terrace project when reviewing their performance.  "In the selection of a general contractor, we go beyond just looking at budgets and timelines; we believe a general contractor should ensure a superior quality of workmanship and at the same time exhibit a strong "team" approach to a project.  J.M. Thompson Company proved to be an excellent fit for these criteria and definitely provided the high level of service that the project demanded.  As Executive Director, I also certainly appreciate the completion dates that your company met and the money that you saved Kisco Senior Living by coming in under budget…"
---

Triangle YMCA Projects: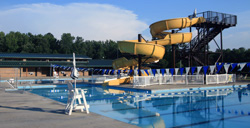 "J.M. Thompson Company is a well-known and respected commercial contractor in our region.  We have used them on projects for over 15 years and have found them to be a very knowledgeable and skilled contractor.  They bring in projects on time and on budget…I would highly recommend J.M. Thompson for your project."
– Wayne Journegan,  Vice President, Triangle Area YMCA, Property & Facilities
---

Southern Lee High School:


"I would like to take this opportunity to congratulate J.M. Thompson Company on the outstanding jo you did in the construction of Southern Lee High School.  As you know, this project had a very tight schedule from the inception, with construction starting in the beginning of winter.  Despite multiple snow and ice storms (and a very wet winter), J.M. Thompson Company stayed on site and was able to get footings established, allowing the job to move ahead.  Southern Lee High School Opened on schedule, to rave reviews from the Owner."
– Katherine N. Peele, FAIA, Managing Principal, LS3P Associates Ltd.